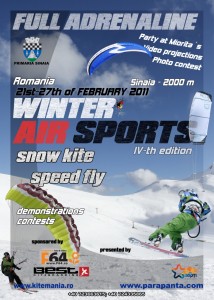 От утре 7 дена Кайт Фест в Sinaia – Romania, информацията е на Английски, който не я разбира да я прочете през translate.google.com
Snowkite in Sinaia/Romania – an important gravitational event. Thus between 21st-27th of February the most famous participants in the country  as well as  guests from abroad are invited to Sinaia Cota 2000 to attend the snow-kite – and speedfly contest WINTER AIR SPORTS – 2011.
Our mission is to promote snowkiting both on national and international level.
WINTER AIR SPORTS is held on the Cota 2000 Sinaia plateau, next to the Cota 2000 cable cabin having the basis at the upper station of the Valea Dorului ski lift. The Cota 2000 area in Sinaia is ideal for the development of this area of leisure activity, representing a real alternative to the more popular winter sports types. We may say its is unique in Eastern Europe for practicing snowkiting: the 2000m altitude grants plenty of snow up to April and the area is enormous with friendly slopes. Wind conditions are also perfect throughout the entire wintertime.
The participation fee is 200 RON,  for applications via internet, and 250 RON for application on site, and comprises:
– free access to the cable car and cabin for Thursday, Friday and Saturday.
– accommodation for Thursday Friday and Saturday nights
– Free drinks tee and hot wine
– ascension priority by snowmobile traction
Participants may enlist within one of the 4 contest sections: Kite Slalom, Race Kite, Freestyle, and Big Air.
WINTER AIR SPORTS has something for everyone.
DISCOVERY Snowkite  – initiation under instructor supervision. There will be introductive sessions for those who want to try snowkite for the first time to realize why it is so captivating. Once they acquire the basics of snowkiting and feel the trainer kite power they become addicted.
CONTESTS  : KITE SLALOM, KITE RACES , FREESTYLE, BIG AIR
DEMONSTRATIONS de Snowkite, Speedfly and Best Jump from helicopter.
Besides the contest sections, there is a series of events: demonstrations, photo contest, party etc.
The evening at the Miorita Chalet includes music, food, prizes and multimedia presentations.
The area of the event is delimited and bears branding whereas the participants are organized in a paddock (stands and tents area) on the plateau next to the Valea Dorului ski lift.
The public has free and permanent access in the whole area of the event, except for the contest track and in the organizers' areas.
The WINTER AIR SPORTS programme is the following:
Tuesday, Wednesday  -Free Training
Thursday, – Enlisting and qualifications
Friday – Qualifications
Saturday, – Qualifications, finale, prize awarding and after-party
Sunday , – Free ride day for photo sessions
The organizing team of the WINTER AIR SPORTS have an extensive experience of over 8 years in  organizing such events in Romania and not only here: instructors, organizers of the most important events in paragliding snowkite and extreme sports festivals in Romania. For further info about the event, map for the way to the event site, the after-party or accommodation tips keep an eye on kitemania.ro, parapanta.com.ro as well as our facebook account -WINTER AIR SPORTS – EVENT!
Contact:
Adrian Miclea 0723 663615 adrian[@]kitemania.ro
Vlad Szokolay 0724 335865 vszokolay[@]yahoo.com
Male Marian 0745 806349 info[@]kitemania.ro
Тези които са свободни електрони и ще ходят, леко им завиждаме. 😉